Marriage / Partner Visas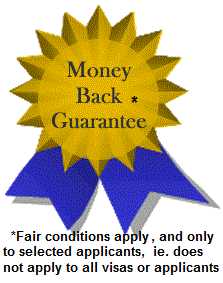 Are you wanting to bring your special someone from overseas to live with you permanently in Australia? Find the process complicated, and do you worry that if you don't get it wrong then you're in for a long and frustrating wait? We understand your concerns and we know what you're going through. Get it right, and you're granted a visa. Get it wrong and you get a refusal. We have many years experience in this process, and have even been through it ourselves. And we spend 95% of our time doing fiancee and spouse visas. So you're in safe hands with us.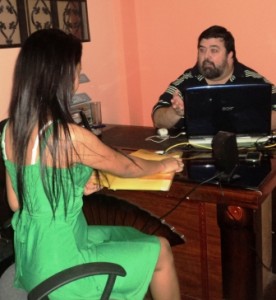 Prospective Marriage (fiancee) visas and Partner (Spouse) visas are our speciality, and comprise most of our clients.
Prospective Marriage Visas, aka Fiancee Visas (subclass 300): for people intending to get married. The visa allows an Australian Citizen, Permanent Resident, or Eligible New Zealand Citizen to bring their fiancee to Australia and to marry her within 9 months of the grant. After the wedding you apply for a Subclass 820 onshore temporary partner visa. After two years of a successful relationship, a Subclass 810 permanent partner visa is granted.
Partner (Spouse & Interdependent Partner) Visas (subclasses 309/100 or 820/801): for partners who are married or in de facto (common law or "live in") relationships. Also for same-sex partners in interdependent relationships. They require sponsorship by an Australian Citizen, Permanent Resident, or Eligible New Zealand Citizen also. Initially a 2 year Subclass 309 offshore partner visa is granted, and allows the visa holder to come to Australia. After two years of a successful relationship, a Subclass 100 permanent partner visa is granted.
Partner visas and prospective marriage visas are done in several stages, and are initially temporary. But they all lead to future permanent residency when processed and supported properly. You are assessed on the basis of your relationship to the sponsor, ie. of your relationship being genuine and committed and to the exclusion of all others, and against Australia's health and character requirements. The sponsor must also be assessed as to meeting certain criteria. It is our job to make sure your application is prepared properly and presented to leave no doubt in the minds of the Australian Embassy Case Officers that you meet the requirements under the Migration Regulations (Cth) 1994. We are detailed and thorough, and we don't mince words. We care about the outcome, and can't wait for the day when we get to give you the good news of a visa grant!

What do we actually do?
Watch our introductory video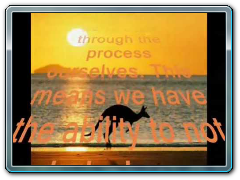 More about Australian Partner Visas from Down Under Visa
We have a remarkable success-rate, and we understand everything you're going through. We can manage your application from you from the point of assessing your case, to gathering your personal information, to helping you gather and prepare all your personal documents and requirements, to preparing and lodging your application, to personally dealing with issues with the Department, right down to your visa being granted. We're with you every step of the way, taking the stress and the uncertainty out of an otherwise scary and risky process.
We live in a much "smaller" world these days. Many Australians will meet and form long term relationships with people from other countries, and when their girlfriend becomes more than just a girlfriend, they contact us. But never assume automatic entitlement to bring a partner here. Partners of an Australian Citizen or Australian Permanent Resident, including a spouse (partner), a fiance, a defacto and an interdependent (same sex) partners must to apply for a visa to be allowed to enter and to live in Australia. To qualify for partner migration to Australia requires evidence of a genuine and committed relationship, and this evidence must be shown in detail to establish the validity of your relationship and your application. We assist you in the gathering of this information by providing detailed checklists and forms, and plenty of practical advice.
If your relationship is with somebody from the Philippines, we can provide service and insight that no one else can. Why? Because we've been through the process ourselves (Jeff & Mila are an Australian/Filipina couple), and we're based in the Philippines. We can provide guidance through the administrative as well as the personal hurdles you need to get through. This means we understand not only Australian Migration Law, we also understand Filipino culture and the often complex system of documents and laws that exist in the Philippines. And we are here in Manila all the time. We don't just fly in and fly out, leaving unqualified staff to take care of things. You and she will have nothing to worry about.
Note that poorly prepared applications stand a high chance of refusal. And in Manila, many applicants are victims of the many unregistered agents (both Filipino and Australian unregistered agents) and opportunist travel agents who exist in large numbers who lodge poorly-prepared applications, or encourage applicants to go down strange pathways of visitor (tourist) visas and/or student visa applications. All the more reason why you shouldn't risk doing this without professional help!
And we have available a 210-page e-book specifically for those clients marrying Filipina ladies, written by well-known and respected Australian author Perry Gamsby. Comes with special chapters written by Jeff Harvie on cross-cultural relationships and how to avoid problems through understanding and better communication skills. This is a limited edition and available exclusively to Down Under Visa clients. We also provide as part of the package all the indepth support documents you could possibly need (and a clients-only webpage) to help you through the daunting process. And we're always available to answer questions promptly. Fill out our online assessment form and you'll see how quickly we respond.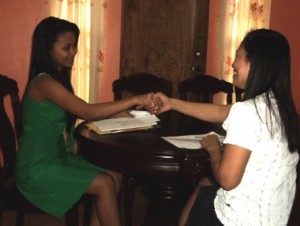 Read what some of our happy couples have had to say HERE
Watch some testimonial videos below!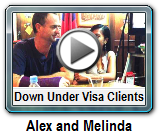 Think a tourist visa would be easier? Please read HERE first.
Planning on calling into the Australian Embassy in Manila to discuss? Please look HERE at the sign at the security section downstairs from the Embassy.
In short, the days of Embassy staff helping you with visa applications is long gone! You don't get in without an appointment, and you don't get appointments to discuss visas. Don't waste your time.
We can help determine your eligibility by completing our free online assessment form.