At Down Under Visa we love seeing happy couples getting together. This is what drives us on. This is why we cope (MOST of the time!) with the intense emotions involved in the visa process, and why we soldier on. We believe in marriage and in family, and we love playing our part in seeing new ones created.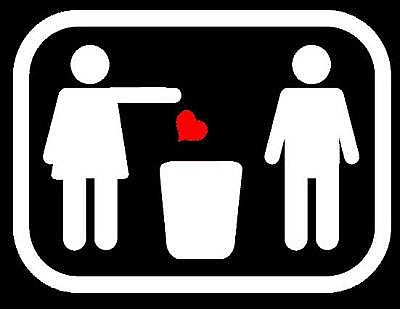 But the reality is that sometimes things don't work out. Sometimes one or both of them weren't so realistic when they were in their courtship days, or maybe one or both of them changed drastically when the "honeymoon stage" had worn off. And in some cases, the man was set up right from the start by a scheming bruha (Google it!) who simply wanted a meal ticket! It does happen! Fortunately it's not like the current affair type trash-press will tell you, but no point saying it never happens when it does.
What do you do when it's definitely over?
There are practical issues you need to deal with. Men are often overcome with emotion and get very down and depressed when this happens. Only natural! But you need to snap out of it long enough to deal with the practical issues at-hand, especially if she turns out to be one of the scheming bruha that I mentioned. Because there's a good chance she will have already done this!
First thing you need to do is to contact a family law specialist lawyer in Australia, as you need to do things by the book from a legal point of view, and also to protect your assets. We're talking about divorces and property settlement issues if they exist. We cannot and will not advise in this area, as we have no skills or qualifications. But please do so ASAP.
Further issues? This will depend on whether the visa has been granted yet, and also whether she is inside Australia or outside.
The Department of Immigration
Regardless of where she is and what stage of the application you are at (ie. whether the visa is granted or not), you MUST contact the Department and let them know that (a) the relationship is now over, and (b) you are withdrawing your sponsorship of her. You MUST! This is a legal requirement.
Will this lead to her being unlawful in Australia? Deported? Detained? To be blunt? Not your decision! YOUR job is to let the Department know. It's THEIR job to take care of the rest. It should not rest on your conscience, nor should you accept any blame that anyone tries to toss at you over this. YOU don't make the rules, and nor do you decide who gets to stay. Let them know ASAP! If she's still in Philippines, contact the Australian Embassy in Manila. If she's in Australia, then call the Department of Immigration and Border Protection on 131 881 and tell them!
Regulation 1.20J and the "Five Year Rule"
Under 1.20J, you may sponsor a partner visa applicant twice in a lifetime, and with a gap of 5 years in between. This applies IF THE VISA IS GRANTED, and it applies even if the lady doesn't come to Australia!
So…..if you break up and the visa is NOT YET granted, you MUST withdraw your sponsorship ASAP! If you don't, then you will have a five year wait until you can sponsor someone again. Be very aware of this, and act fast. Imagine how you would feel if you broke up this week, and the visa was granted next week?
Domestic Violence!
In Australia, it is possible for a victim of domestic violence (or family violence, I think is the latest term) to successfully apply for a permanent visa even if the relationship has broken up.
Yes, there are genuine victims out there. It happens! But unfortunately there is also the issue of fake domestic violence, where a scheming bruha claims that she has been a victim in order to gain the prize of Australian permanent resident status. And that could result in an innocent sponsor being charged and convicted of a heinous crime and to have to carry that burden on top of the misery of a failed marriage.
So be very aware of this. Don't put yourself in a position where you could be accused unfairly. If she comes to get her things, have a witness with you. Don't be alone with her! And button your lip! You need to look out for Number One at this point.
If this has happened, then good luck to you. Hope you can get back on your feet soon!