I don't know how many Down Under Visa clients have visited Tagaytay before. It's Manila's version of a Hill Station, and at about 1 ½ hours drive along the Aguinaldo Highway it's a lot closer than going to Baguio.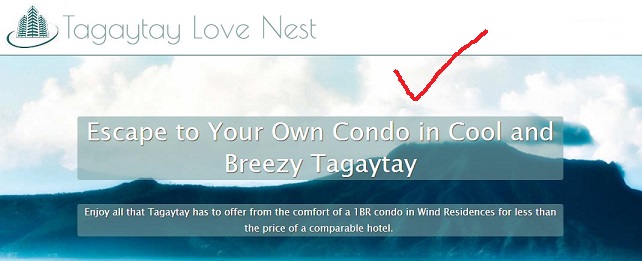 It's 634 metres above sea level, so it's nice and cool and the air is clean, known for its great restaurants, coffee shops, great views and for being a fairly safe place. It's up on a ridge overlooking Taal Lake (pronounced "tah-ahl") and the Taal volcano, where the clouds are often at roadside level. Averages about 4°C cooler than Manila.
It's actually just up the road from the Down Under Visa office. We often suggest to clients to turn right instead and find themselves a nice restaurant with a lake view to have their lunch. A refreshing break from Manila.
Looking for a quiet, clean and comfortable place to spend a few days or a week or so? How about condo unit in a nice and modern building in Tagaytay? One owned and managed by Down Under Visa?
Please click on the link and go to the site for the TAGAYTAY LOVENEST.
You can book online. We look forward to welcoming you.