I remember my first trip to the Philippines in the 1990's and the special Philippines culture shock that I experienced. I look back now and I'm amazed at my naivety. I had travelled in the East before in the 1980's and was definitely out of practice, however I should have had some idea. But no, I didn't. I'd seen the various photos that exist of towns and places in the Philippines, but minus the noise, smells and high-speed chaos, a 2D photo gives a very unclear picture.
But yet, there I was. Arrived on my first Air Nauru flight (which used to do a milk-run flight with multi-stops that was fairly cheap), and arrived at the open doors at NAIA airport in Manila. Had a connecting flight to Tacloban Leyte at the domestic terminal, to whisk me away to meet a very wrong woman. I wasn't prepared for anything at all, in hindsight. Not the country and not the people. This was back before Perry Gamsby had first put pen to paper, so I knew nothing other than a bit of dating website nonsense about what a perfect wife every Filipina girl was.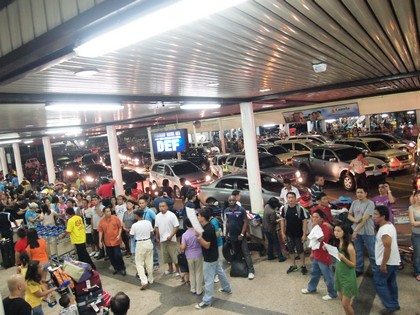 Note right now that this is not dating advice. At Down Under Visa we keep right out of that. You come to us for help with your visa when you have a relationship already. This is just meant to make your existing relationship and the start of the Australian visa process a bit easier.
Philippines – A third-world country
I think the trendy new term is "developing nation", but I think this term works a little better. The point is that if you think you'll be arriving into somewhere like Hawaii full of shorter, slightly-darker Aussie girls, think again! If you are not expecting differences, then you are in for some culture shock! That's how it hit me, I can tell you! The crowds, the noise, the heat, the smell….and that was just at Manila airport!
It's not a rich country, and therein lies the issue as well as the contrast between where you are no-doubt used to. Less money means less efficient infrastructure. There are cars on the road which belch smoke. Roads, footpaths, street wiring etc is often in dire need of repair. The cities are crowded with those who need to earn some money. And it means that there are plenty who will see you as a target for getting rich. That could mean taxi drivers, beggars and street kids, shop people and even the intended love-of-your-life if you weren't very careful and if you gave your heart and your trust too easily.
So you will be in a place which is obviously not home, surrounded by huge contrasts. You will not just blend in like you do back in Australia, and you will be a target to some people. And at the same time you need to figure out if this girl is truly the soulmate you've been looking for.
Should you marry and apply for a visa on the first trip?
At Down Under Visa it's not our job to tell people what to do, even if it may seem like that sometimes. We make suggestions, but it's up to you what you want to so. If you wish to arrive in Philippines to meet your Filipina lady for the first time, marry her and then start a visa application, then we will help you.
However, if you would like some helpful advice, it's too much to handle on a first trip. Unless you are a very experienced traveller and a highly adaptable person, chances are you will be in sensory overload and not up to something so momentous. Dealing with the heat, noise, crowds, smells, and the general shock of the unknown…….then meeting your new inlaws, who may well be living a lifestyle that's very very different to your own…….AND trying to get used to someone in the flesh that you've only known via a computer before……and then organising a Filipino wedding? Out of respect for those who have done this, I won't actually say "CRAZY", but let's just say it's not something I would generally recommend!
First trip to the Philippines – Best advice!
Get as long of a stay as you can spare. If you can only get a week, so be it. But if you can push for a bit more, please do. There's a lot to take in, and you really want to leave when you've truly taken it all in. Three days in a hotel room won't do it.
Remember that the primary reason for being here is to be with your Filipina fiancée or girlfriend. You're not here to be mega-tourist and to see every recommended site that you can find.
And that means whilst it's good to meet her family, it's still about you and her. Filipino families can sometimes not quite get that it's not just another day for you and her, and unless you really want to spend your days with absolutely no privacy and watching your Filipina wash clothes and go to the market for most of the day, you should plan to spend plenty of time elsewhere.
Try to find quiet places to visit and to stay. Don't just spend every day in a different mall!
If noise, crowds, strange food and lack of privacy are OK with you, then go with the flow. But if it's getting to you and making you tense and disoriented, then take yourselves away from the things that are freaking you out until you can get used to them. The important thing is to have quality time together.
And the above applies to weddings too. If you feel clear-headed enough to get married first trip? Then go for it! If not, then don't! It's the biggest decision you will ever make.
Don't ever have the "can't go home empty-handed" mentality. When it comes to marriage, you are entitled to be completely selfish! Don't do it if you're not 100% sure, and it's OK to delay for another visit if you need to. This doesn't make you a bad person.
Good luck, and we look forward to helping you with a partner visa from Philippines to Australia when you are ready.