There seems to be a bit of a new phenomena at the moment with people considering the Philippines to be a scary place that should be avoided. Down Under Visa have had a few cases recently of Filipina ladies with Australian sponsors trying to get Australian tourist visas when they haven't met in person, which is basically a guarantee of getting a visa refusal. When I ask why they haven't met? It's because the Australian boyfriend feels the Philippines is far too dangerous to visit!
We haven't had many like this, and maybe we won't get any more. However, I thought it was time for a bit of clarification. I live here, and I've been here for over 6 years and I feel perfectly safe. You need to exercise reasonable caution, for the simple fact of being a "have" in a country with lots of "have-not's". There is a high disparity of income and opportunities, far more than you will ever see in Australia. Where I lived in Australia before (semi-rural area), I left doors open. Obviously I wouldn't do that here. But we don't live in terror.
The issue with tourist visas when you haven't met?
If you haven't met in person, they won't grant a tourist visa. Full stop! Years ago, yes they used to. Then they stopped. Saying "too busy", or having medical conditions making travel difficult, and definitely saying "scared of terrorists" won't persuade them otherwise. They need to ensure that only genuine visitors enter Australia, and they feel that having the sponsor make the effort to travel here to visit her is a minimum that they should expect. Prior to that? Yes, there were low-life characters in Australia who would get a tourist visa for a girl they'd never met….have free sex for three months….then send her back, and do it all over again with a different girl. Australia wants high standards, and they have a job to do.
Perceived risk factors in the Philippines – Kidnapping and Terrorism
It's a risk. Yes, there are terrorist groups here. There are Islamic separatists who want to establish an independent state in Mindanao, ie. Abu Sayyaf, Moro Islamic Liberation Front (MNLF), Jema'ah Islamiyah and possibly ISIS are active in areas of Mindanao. Primarily they have a few battles with the Government, and they are not adverse to kidnapping for ransom. And they do some bombing on occasions, such as the recent bombing in Davao City. Scary stuff, no doubt.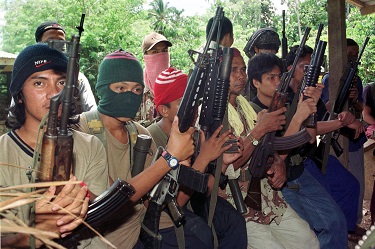 But to get things into proportion, there were something like 51 kidnappings for ransom in Philippines in 2014. Mexico had about 12,000 and even the US city of Phoenix (Arizona) has a reported 200 kidnappings for ransom per year. No one issues travel warnings about the US!
Most of these terrorist and kidnapping activities are confined to the trouble-spots. Central and western Mindanao, including the Zamboanga Peninsula and Sulu Archipelago are best avoided. I wouldn't go there myself!
Otherwise? Just exercise some caution. Remember you are not in Australia, and you are perceived as a rich man. And you will stand out in a crowd, especially in the rural areas. Try not to advertise your travel plans to all and sundry. Arrive and leave without anyone knowing when or where. And ask your girl to keep all of this under wraps too. And in the cities, especially places like Ermita, Malate and any of the bar areas, watch out for pickpockets, things being slipped into drinks, and various scams with underage girls in hotel rooms, etc. But outside of the trouble spots you have very little to worry about from terrorists and kidnappings.
Is the Philippines dangerous because of President Duterte?
There's an expression of exasperation here, which goes "Hayyyyyy naku"! I'm thinking it to myself right now. Rodrigo Duterte reminds me a little of myself. A man who wears polo shirts and swears readily, I find hard not to like. Remember the old days of the blunt in-your-face Aussie politicians like Joh Bjelke-Petersen? He would tell journalists that they could "go jump in the lake". Well, Pres Duterte says "Putang ina!" when journalists ask him what Barack Obama would think of his crime-reduction measures. Joh didn't swear, nor did he tell the press details about his visits to his mistresses, but as Aussies loved and responded to his down-to-earth approach, they do the same here to a man who serves pandesal, monggo and fried banana at his inauguration "feast" instead of lobster and champagne!
Rody Duterte is blunt. He has a big mouth. A huge change from the elitists who've run this country since independence. The fact that he's challenged the powers-that-be…..the same people who run the media…..may well have some bearing on the way that the news is reported. And foreign media seem to feel the right to make audacious "reports" like the "Licensed to Kill" nonsense on Australia's 60 Minutes which they would never do about a non-Asian head of state. He says "Putang ina" at some journalists whilst reminding them that he's answerable to the Filipino people and not to Obama…which is an expression that 99% of the population will use if they stub their toe…..and the newspapers say he's calling Obama's mother a prostitute! Again, "Hay naku!"
The rule-of-law still exists here. There are no running gun battles in the streets. He's offered legal protection to police who are forced to defend themselves when arresting low-life scum drug dealers, which has led to some deaths. It's also lead to a massive number of arrests. There is no "dead or alive" vigilante program going on. You'd be far more likely to get caught in crossfire in Obama's hometown of Chicago!
So please relax! Come visit. Don't go camping in Sulu wearing a US flag tshirt. Don't count your money at an ATM in Ermita whilst facing the street. Exercise some sense and be aware that you are not in Hobart. Do that, and you will be fine!