The topic of visa grants from the Australian Embassy in Manila has been a positive one lately, I must say. Lots of good news for a lot of Down Under Visa clients, and lots of lovely ladies heading to Australia from the Philippines. Our usual high success rate remains in place, of course. And I have to say, the Embassy staff have been hard-working and highly efficient for the last 3 – 4 months.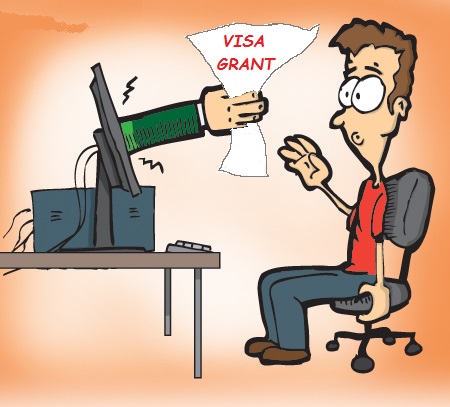 Australian Embassy in Manila
Most of you would know that it's staff in the Australian Embassy in Manila who process the offshore visa applications, ie. Subclass 600 tourist visas, Subclass 300 prospective marriage visas, Subclass 309 partner visas, Subclass 101 and 445 child visas, and Subclass 461 New Zealand family relationship visas.
Just noting that the last visa grant from them for 2016 was 23rd of December, so they worked right up to their holidays. And they were back to it on 3rd of January.
They cop a bit of flack, and Aussies in general are fairly critical of those in important positions and are often quick to rip into them if they do the wrong thing. A bad thing? Sometimes extreme, but it many cases it "Keeps the %@#*$~! honest" and contrasts with the awe that Filipinos have for people behind Government desks. If Filipinos were a bit more Aussie about things, the queues would be shorter and we wouldn't have to deal with mistakes in 1:10 NSO documents!
And of course, no one is happy when the Embassy ask for additional documentation, and no one likes it when they face a refusal on what they assumed was a "simple visa application". The Embassy website, plus comparisons with most other government applications that Aussies make, yes I suppose it's fair for the average Australian to assume that it's all very simple. Thus the shock at:
Refusals
Requests for further information
And with the fact that Down Under Visa have high expectations when it comes to quality and quantity of information from visa applicants
I had someone the other day tell me it was just a "simple visa application" (a partner visa, which is far from simple), and can't I help him out with a "simple list" of requirements? I told him it would be like going to a builder and asking for a mansion, but then telling him to make it out of old pallets and rusty nails! Applications prepared in a "simple" way lead to fairly speedy refusals.
But back to the Embassy…..
I've been dealing with the Manila Embassy for many years now. Many of the Case Officers have been there for many years too. We're doing more dealings these days with the actual "Department" (DIBP) in Australia, and they're a bit of a monolith. Never know who you're communicating with. They respond with only first-names or sometimes even "position numbers". Not quite the same. Manila is staffed by some very experienced people, and given that most are local staff you find a fair bit of understanding and empathy with locals. It also means that if you try to pull the wool over their eyes with nonsense statements and excuses (let along false statements and bogus documents), chances are they will see right through it. So be warned!
So yes, I consider them to be the good guys, and definitely not bad guys. Poor applications and unconvincing cases, and of course they won't hesitate to refuse a visa application. That's their job. If the application doesn't meet the Migration Regulations, then it must be refused. That's Australian law. But I could guarantee you they would have smiles on their faces every time they tick an application as GRANTED.
Lately visa applications have been granted earlier rather than later. Tourist visa grants have been taking less than a week, sometimes only a day or two. And partner visa grants, they seem to be coming through quicker too. And they certainly put in a sterling effort before Christmas to get as many out as possible, as they are fully aware and do care that people want to be together. Their job is to protect Australia's borders and not to facilitate travel plans, but they are still human and of course they get it.
So, for those who are still in the visa application preparation stages, to those awaiting visa application outcomes, we at Down Under Visa wish you a great 2017 and hope that the year brings you what you want. That means I hope that this year sees you and your loved ones together in the one place, where the memories and stresses of being apart fade into the past where they belong! We look forward to being a big part of making that happen.
Further Reading
How to ensure an Australian visa refusal!
Visa processing times – the hard facts
Australian visa processing times – How long?