Do you have biological children in the Philippines, and are you an Australian man? The best thing you can do for them is to apply for Australian Citizenship By Descent for them, and they will have all the same rights as any other Australian Citizen. This is their birthright, and you should do it as soon as you can.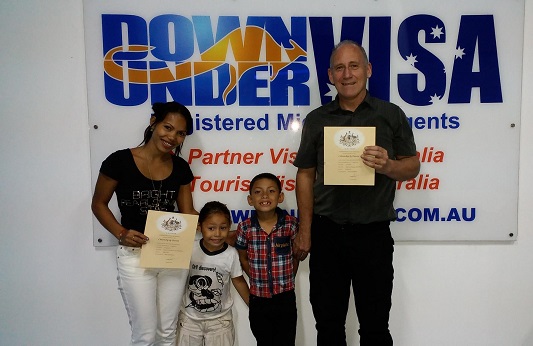 Citizenship or Partner Visa?
Most people probably know that you can include the dependent children of your wife, fiancée or partner as secondary applicants in a partner visa or prospective marriage visa application. This includes biological children of yours if you wish, but seriously why would you? Citizenship is not only a better option, it happens to be cheaper than applying for the child as a secondary applicant to a partner visa application. Considerably cheaper.
Advantages:
Child is an Australian Citizen
Child doesn't need a visa to Australia…..ever!
Child can travel on an Australian passport
Child is under no obligation to travel to Australia before a deadline. No deadlines at all.
Cheaper application
Disadvantages:
None that I can think of
Requirements for a Citizenship By Descent application
First and foremost, one biological parent must be an Australian Citizen, and they must have been an Australian Citizen at the time of the birth. This isn't retrospective. Can't go back and bestow Citizenship on kids born beforehand.
And must actually be the biological father of the child. Doing the noble and chivalrous thing of claiming paternity of a child you didn't actually father? Can't be done, and must not be done. In the Philippines this is also illegal. And you will end up with long term problems at the stroke of a pen if you do sign the paternity section on the birth certificate, of which you will live to regret.
I don't knock an Australian bloke for wanting to do that. It's not easy for single mums in the Philippines. Many remain single because local men often don't want to marry them, and those who do don't always accept children that were fathered by another man. They can end up on the outer in a new family. And being "illegitimate" still carries a social stigma here. Kids should have dads. I believe that, and I take my hat off to any decent Aussie man who is willing to do that. However the law is very clear, and Citizenship requires the child to be biologically descended from an Australian.
How would they know?
DNA tests: They don't often ask for this, but they can. If they do so, your will definitely be caught out if you are not the biological dad.
Evidence at the time of conception: If you were sitting back in Australia at the time of conception and the Filipino lady was in the Philippines, logic tells you that you can't possibly be the biological father. Again, don't try to be clever because it's their job to catch you out if you're not being honest with them.
So what do they need to see?
Basically they need to see that one of the biological parents (normally the father in our experiences) is an Australian Citizen, and that the child is the child of that relationship, ie. the biological child of the Filipina mum on the application. And they need a paper trail of evidence and documentation to back this up.
Please contact us and let us know, and we can organize an application for you. And your child or children will gain all the benefits of being fully fledged Australian Citizens just like you.
Additional Reading
Citizenship by Descent – a great option