In order to sponsor a partner for a fiancee visa (prospective marriage visa) or a spouse visa (partner visa) from Philippines to Australia, amongst many other requirements, the prospective sponsor must be either:
(a) An Australian Citizen,
(b) An Australian Permanent Resident, or
(c) An "Eligible New Zealand Citizen"!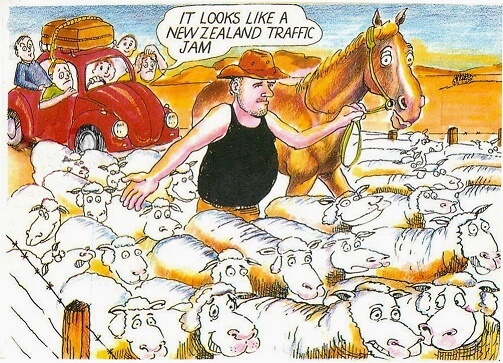 Migration Regulations (Cth) 1994, Reg. 1.03 defines an "Eligible New Zealand Citizen":

Eligible New Zealand citizen means a New Zealand citizen who:

(a) at the time of his or her last entry to Australia, would have satisfied public interest criteria 4001 to 4004 and 4007 to 4009; and

(b) either:

(i) was in Australia on 26 February 2001 as the holder of a Subclass 444 (Special Category) visa that was in force on that date; or

(ii) was in Australia as the holder of a Subclass 444 visa for a period of, or periods that total, not less than 1 year in the period of 2 years immediately before 26 February 2001; or

(iii) has a certificate, issued under the Social Security Act 1991, that states that the citizen was, for the purposes of that Act, residing in Australia on a particular date.
New Zealand Citizens in Australia
Since 26th February 2001, New Zealand Citizens may enter Australia without applying for a visa as do citizens of other countries, and are able to be issued at the airport with a Special Category Visa. This is a temporary visa, which allows them to stay and to work.
New Zealanders who were in Australia prior to 26/02/2001 had the same rights as Permanent Residents, and they retain these rights. THESE people are "Eligible New Zealand Citizens". If you arrived from New Zealand after this, then sorry you are not. And you are not able to sponsor a fiancee, partner or spouse from overseas to live with you permanently in Australia.
I bring this issue up because twice in the last week we have had New Zealand Citizens ready and willing to sponsor their fiancees to Australia, but neither of them was eligible to do so. One arrived in Australia in 2010, and the other in 2011.
There are temporary visas available for New Zealand Citizens to bring family members to Australia. Please contact us for more details.
NOTE: This is a re-posting of an earlier posting from February 2012