All About The Philippines
This is a YouTube Channel (LINK) from Peter, a former client of ours. As well as watching the video about why he feels that Down Under Visa is the best Registered Migration Agent in Manila Philippines, you will also find a number of really interesting videos about life in the Philippines and Philippines culture. And it's all from the perspective of an Aussie bloke and a family man, rather than being about the seedy aspects. Suggest all consider subscribing and enjoying what else you find there.
For those who haven't done so already, we hope that you will also subscribe to the Down Under Visa channel (LINK) too, so you can keep up to date with new videos we post there about Australia visas and also about Philippines life and culture and cross-cultural relationships (how to make them better). Please pay particular attention to our regular PODCASTS, which are an extension to our existing BLOG articles. I ad lib and add a lot more information and explanation, so it's good value.
And our thanks to Peter for his kind words and for his efforts. Very much appreciated. Great to be included to such an excellent channel.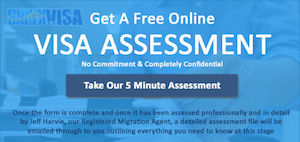 COVID CONCERNS? Australian visas ARE still being granted. We can assess you (a) for an Australian visa AND (b) for a travel ban exemption. CLICK HERE and find out!