Getting stuck at NAIA Airport in Manila
Every traveler's nightmare, right? There you are, about to check in for your flight to Australia. Passports in one hand, lovely Filipina lady and possibly children in the other…..and Philippines Immigration tell you that you can't leave!  Imagine how you would feel if your Australian children were prevented from leaving Philippines and going to their new home in Australia?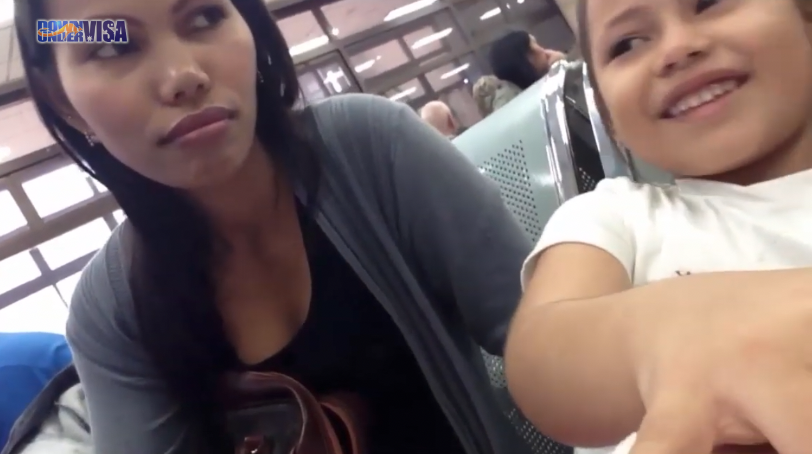 Thinking about it, for some reason no matter how guiltless you are, you always feel a bit nervous when going through Immigration in Manila. I know I do. Always imagining what would I do if they suddenly said there was something wrong? I had a few close calls with Philippines Immigration with a sweat-stained passport back in the 90's, and was warned that I could get stopped because I already looked like an suspicious middle-eastern person (when my hair and beard were jet-black and I lacked the snowy charm I have now) if I didn't update it.  
Chris and Vanessa – the Journey from Philippines to Australia
Yes, we have another video today from Chris and Vanessa, along with Conrad and Celeste. CLICK BELOW! They found themselves stuck, because Philippines-born children even with Australian Citizenship By Descent are required to have an Emigration Clearance Certificate (ECC) issued by the Bureau of Immigration before they may exit the first time. Well, guess what? In their rush to get things organised, they didn't get these.  
Many of you could imagine yourselves in that situation, and could picture stepping up and taking charge! Yes, I have to admit I also become a bit of an Alpha Male in situations like that, or at least I used to. I would demand to see supervisors, managers, etc and use my loud voice to make sure I'm not being ignored, and that would include Philippines Immigration officers. But it works better I find when wisdom and patience prevail, especially in the Philippines. Chris is even older than me, and probably a bit calmer. And he's also spent a lot of time in the Philippines and knows the ropes very very well.  
How to deal effectively with Filipino officials
Meant respectfully. Not meant as "How to show 'em who's boss". Not at all. THEY are the bosses. Whether it's Philippines Immigration, the PNP (Police), or someone in charge in a Philippines Government office. THEY are the ones with authority, and it's their country after all. The Philippines has every right to set its own laws, and visitors to a country should obey those laws and to act with courtesy. Not only that, but you will hopefully learn to understand two important aspects of Filipino culture.
Shouting at people….raising your voice….insulting them and embarrassing them publicly? It gets a very bad result. It upsets people, and it doesn't grease the squeaky wheels at all!
Filipinos are a very kind people, and if approached with courtesy and respect will tend to be much kinder than their Aussie counterparts would ever be!
The "secret"…..which worked for Chris, and has worked for me on many occasions…..is to appeal to the better nature of that person in charge, and to rely on the kind heart which they more than likely have. Let them understand the human side of it, and let them know how hard it is to bring kids to the airport only to have to turn around and leave again.
This happens at airports, NBI offices, courthouses….everywhere. I have a problem with my back which causes me pain and makes mobility difficult. I've seen people do remarkable things to help me out. My mother (RIP) when she would visit, being the independent and cranky little Aussie battler that she was, would have difficulty coping with being wheeled about in a wheelchair and having her bags carried for her. I had to tell her she had no choice. So please enjoy the video and see how others are coping with the same journey you and your Filipina lady and new family are coping with. And please share with partners and other interested friends.