You need a visa from Philippines to Australia for your Filipina sweetheart, and that means there will be an application form and some visa requirements, right? There's a list of documents you need to collect, and you can get that from the Migration Agent. Then once you get everything, you let him know and he can fix up the rest of it. Right? You should email the Migration Agent and ask "What are my requirements?", right?
Wrong!  
Continuing on! Or work it out from the Department website, put it all together then present them to Jeff Harvie and say "I have everything done already". Right? All I can say is that in all my years of practice I have NEVER had a client come in with everything ready. And I've had lawyers and many other professionals as clients!  
Visa Requirements – Not One-Size-Fits-All
This is the first mistake, and it's natural enough. There are travel agents who hand out lists of visa requirements on request, and they pretty much leave you to it. I would hope that no professional Registered Migration Agent who knows their job would ever do that.  Why? What does a Migration Agent do
In short? We gather your information, and we present a strong case to the Department so they grant you a visa.
At length?
We assess you and your situation, your hopes and dreams, and we advise on a suitable visa that will realistically match your expectations.

We gather all of your important information. Down Under Visa does this by detailed questionnaires.

We give you a personalised and detailed To-Do List which explains what documents and relationship evidence we need from both of you.

We give you clear guidance on how to collect the information and relationship evidence that we will need for the application.

Receive and check documents and relationship evidence for accuracy, suitability, quality and quantity

Complete your application forms

Finalise and lodge your visa application

Monitor progress and communicate with the Embassy when required, and to see the application through to finality.
Handing out lists of generic requirements that may or may not match what you need, then hoping the client works out what parts of the list match their own situation? It certainly doesn't match the way that Down Under Visa does things.
Visa requirements are 80%+ of the substance of the visa application!  
Visa requirements
Yes, read it again. Visa requirements are 80%+ of the substance of the visa application!
The application form is mostly just the nuts and bolts of who you are, eg name, date of birth, etc. Plenty of trick-questions, yes. But it's not the form itself that convinces them of the genuineness of your relationship. It's the documents and the evidence…..ie "the requirements"….that gives the substance to the application. 
Simply being engaged, or even being married, it's not enough in itself. The problem is there are sham marriages out there. There are those who will pay at Australian to marry them (then follow up with a divorce later) in order to get the right to remain in Australia. And there are also ladies (and I use that word loosely) who will prey on lonely Australian men to try to get into Australia. This is why there is so much checking and verification of facts. Never think you just need to supply the basics! If they're not absolutely convinced, you will get a refusal. Statistically you have between a 1:5 and 1:4 chance of not getting a visa.
Therefore a LOT of work is put into making sure all documents are correct so there is no doubt about the identity and character of the applicant, but especially that relationship evidence so they can see that a real relationship evolved naturally. A Partner Visa and Tourist Visa professional like Down Under Visa know what they want to see, and know better than to try to short-change them. 
The issue is that the case officers who make decisions sit on the 23rd floor of the Australian Embassy in Manila and make life-changing decisions about people they've never met. They have the answers you've given them and the documents, photos, letters etc that you've sent them. Refusals of Tourist Visas often occur because they simply can't get you and your situation, because you presented your case poorly. And why would you do otherwise? For most people this is their first time! So why on earth would you know what they want to hear?
And one more point – no freebies!
One more point in addition to the fact that quality visa applications don't come from generic visa checklists and beginners luck!
We do also need to make a living!
There are plenty of brain-pickers out there. Plenty of unscrupulous people who think it's OK to ask a professional Registered Migration Agent to tell them how to do something for free. We've even had people come to the Down Under Visa office with a list of 20 questions so they can lodge their own visa application.
And to give you detailed and personalised information on how to prepare a visa application so you can benefit from our help without paying? Again, we need to earn a living. The children won't feed, house and educate themselves. It's NOT just a standard list that's one-size-fits-all. It's personalised and very detailed, and it comes with a mountain of supportive information telling you how to get it all correctly. And then to check all their visa documents to prepare and present a really strong case for you? No one is getting that handed to them either!
Decent people understand that, of course. As most wise people discover over their lives, better to use an expert. Subcontract it out to someone who knows what they're doing! Give the task to someone who does this all day everyday and has the runs on the board.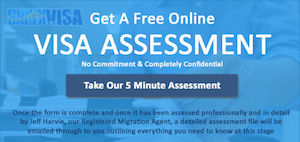 COVID CONCERNS? Australian visas ARE still being granted. We can assess you (a) for an Australian visa AND (b) for a travel ban exemption. CLICK HERE and find out!