Down Under Visa Review and Testimonial
David contacted me quite a few years back now about wanting to get a Partner Visa from Philippines to Australia for his long-standing relationship with Lesiel, his Filipina partner. The two had been living together in the Visayas in Philippines for a number of years, and had decided they wished to move back to Australia as is not such an uncommon scenario. The Philippines is a great place to live. I should know. I made my life here with my family a number of years ago now. But it's not for everybody, and they decided it was time to move and obviously David wanted the love of his life with him.  Today he and Lesiel give a review of Down Under Visa.
David and Lesiel and their Australian Partner Visa
Like many who come to us, David freely admitted that his skills lay elsewhere. He was no expert with computers, paperwork or trying to work out what the Australian Government want on a visa application. Knowing the very real possibility of a visa refusal, he did the sensible thing and found what he needed to find. An Australian expert here in Philippines who knew about Australian visas and about the peculiarities with dealing with Filipinos and with the documents and officialdom that exists here. After much research he contacted Jeff Harvie at Down Under Visa.
So we began the process of preparing a great partner visa application. Actually several visa applications, because as well as the Subclass 309 Offshore Partner Visa we also applied for a few Subclass 600 Tourist Visas for Lesiel while they were organising things. And sometimes clients are not in a great rush, which is fine with us. We're endlessly patient with our Australian Sponsors as well as our Filipino and Filipina Visa Applicants.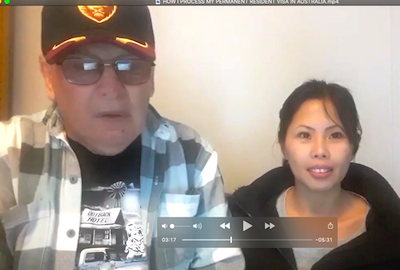 So now David and Lesiel are happy and content back in Australia together, and Lesiel was kind enough to make this video testimonial to thank us for our help in making their life together in Australia a possibility. They doubt if they could have done it by themselves, thus taking their time in sharing their story publicly. We hope that this Down Under Visa review stands as living proof to those who are scared and missing each other across the many thousands of kilometres that this can happen to them too.  Please enjoy their story as a testimonial of what can happen to you too if you wish.