We can do some remarkable things and Down Under Visa for our Australian Filipina couple clients who need visas to Australia.  
Down Under Visa have been operating here in Manila for many years. How many other Registered Migration Agents (RMA) have permanent offices in the Philippines? Well, surprisingly there is me and another fellow who does work visas only (https://portal.mara.gov.au/search-the-register-of-migration-agents/ and put in "Philippines"). There are….or were….other RMA's who would visit here from time to time…run some seminars…then leave their office in the hands of an office clerk. 
We used to visit here too, but we moved here permanently in 2010 and have been here ever since. We have an office which is staffed by 11 of us. And our doors never shut, even during the worst of the lockdowns. Clients were still being taken care of, applications prepared and lodged, and visa grants flowed through at a rapid rate. Nothing changed.  
What can Down Under Visa do?
We manage visa applications for Australian Filipina couples primarily. Yes we do a few from other countries, but generally for Filipinos who are resident in Hong Kong, Singapore, Thailand, etc. The Philippines and Filipino applicants are now and will always be our specialty. 
We manage Partner Visas, Tourist Visas for Australian Filipina couples, Child Visas, Parent Visas and Citizenship Applications. No work visas. No student visas. We don't believe in diluting our skills, and we focus on providing the very highest standard of expertise in our chosen area.  
We can do some impressive things during COVID-19 and the travel bans that exist both in Australia and Philippines.
I will elaborate on this point, because it's important. I touched on this in my last video (please watch https://youtu.be/u-U-br7vyTI and please share with your partner-in-life). The point is we work hard trying to find ways to bring our clients together during these tough times. Borders are closed to most people, and it takes a high level of skill and determination to still bring couples together and see Travel Ban Exemptions and Australian Visas get granted.   
We can:
Organise travel ban exemptions for couples in married relationships or de facto relationships.
Is this easy? Definitely not! And I won't lie to you and make it out that this is a walk in the park. It often takes quite a few applications (which we do NOT charge for extra tries!) to get these through, but we do not give up.  
Guide you toward online weddings when you otherwise can't get together and marry the conventional way. Are we organising weddings? Have we become wedding coordinators? Definitely not! No, we did the research into the legality and appropriateness of online weddings through the Utah Country Government in Provo Utah in the US. Please watch https://youtu.be/VpqKXhT8lcw and go to https://www.onlinefilipinoweddings.com 
We discussed with Australian Family Law lawyers, and most importantly with the Attorney General's Department (PLEASE ASK and I'll email you a copy of what the Attorney General's Department said) to see if Australia would in fact recognise these weddings. Yes, Australian Law does in fact recognise Utah online weddings (https://www.downundervisa.com.au/2021/03/yes-overseas-onl…sed-in-australia/)!
And yes, we have discussed this with the Utah Government to see if they required either party to be a US citizen or even a resident. No, they do not. They will also marry same-sex couples and couples who have not met in person due to travel restrictions.
And importantly? Visas are being granted. Travel ban exemptions are being granted. Granted to couples who've taken the plunge and married online! So it works, and it's here for your benefit due to our persistence. 
Do we charge for steering you toward online weddings? No. Definitely not. It's far too easy and user-friendly anyway, so we advise you to go direct to the Utah Government Office. We DO charge for visa applications, by the way. And great value for money!  
Help out those couples who haven't met in person yet, but want to marry and get a partner visa. Once upon a time this wasn't a possibility, and i would have just told you to jump on a plane. That's not a realistic proposition right now as you know, yet people fall in love and they have a right to move forward in their relationships!  Now it is possible to apply for a partner visa when you haven't met in person. If you are in this position, please email me and discuss your situation and I will discuss in detail you then.
What can Down Under Visa NOT do?
Lie!
Tell you what you want to hear when what you're suggesting isn't going to work!
Cannot do it! Would we make more money if I said yes more often? Most certainly. But I DO like to sleep at night, and we value our reputation which has been hard-won.   
Examples of what we will not do
Agree with you when you say you want to bring your Filipina lady to Australia very quickly!
Visa processing has always had a varied outcome. Some clients are better-organised than others. Some have complexities that take time to deal with. And the Department and/or the Australian Embassy operate to their own timeline. Always have. No less today during these more challenging times. We won't make promises and we certainly won't agree to "Can I go to the Philippines and bring her back with me on my return flight?"   
Agree with you when you want to bring your lady on a tourist visa (quickly and easily, so many people think) and then start preparing a partner visa application later on inside Australia.
I can give you a long list of reasons why this won't work. But to keep it simple, there are a few main points.
Travel Ban Exemption applications require more evidence and documentation than stand-alone pre-COVID tourist visa applications ever did before. We need lots of stuff!!
Partner Visa applications require documentation from the Philippines and it's not easy to source this from inside Australia….especially right now!
Tourist Visas have time limits, and Partner Visa applications take a lot of time to organise. And rush-jobs lead to refusals.
So no, we don't recommend trying to do this at all. We've seen many try and fail, and we would rather you weren't the next failure.  
PS. No I am NOT saying we can't lodge partner visas in Australia! I am saying best to prepare earlier, and not to start preparing later!
Agree with you that you are in a de facto relationship when you are not A de facto relationship…..a shared-life relationship qualifying entry-point for a partner visa application (if you choose not to marry, or can't because one of you is still married to someone else)…..it's more than just being boyfriend and girlfriend, or sending some money regularly, or visiting a few times a year and staying in nice resorts. We will assess you.
If we can help? We will say so. But we will NOT lie to you and watch you fail.  
Agree with you that annulments are quick….or unnecessary The Philippines has annulments instead of no-fault divorce laws. This takes time, ie 1 – 2 years or sometimes more. If your Filipina lady is still married to someone else and you are NOT in a de facto relationship, she needs to organise this and should start ASAP! 
And no, I will not tell you that its not necessary because the ex-husband was a cheating deadbeat! Marriages are legally binding contracts which only cease to be when a court says they cease to be.
We hope this helps you in making a decision where to put your trust with managing your future as a couple! We will continue to do everything we can legally and ethically to make your Australian Visa application successful during these tough times, and we will tell you the truth if we can't help you right now. And we will continue to do so when the world returns to normal!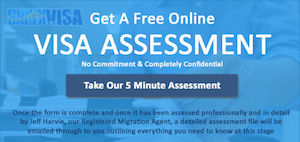 COVID CONCERNS? From 21 Feb 2022 the Australian border will be open. You just need a visa and to be double-vaxed! Click above and get a free assessment!