I said I would update you, and here I am. Busy week for BLOG articles, and hope you keep up. This is the easiest way of telling important news to a whole lot of you. It's also Holy Week 2022, so we need to explain about that.
If you didn't read the latest, please also read:
https://www.downundervisa.com.au/2022/04/covid-19-butt-kicked-in-philippines-better-health-vaccinated/
https://www.downundervisa.com.au/2022/04/new-biometrics-requirement-for-australian-visa-applications-in-manila/
So here goes…….  
First! Office is Busy! A plea for patience!
We have not stopped since we came back to work at the start of January 2022. Usually it eases off a bit after the first month or two of the year, but not this year. The borders have opened. Aussies can come here and see the ladies they've spent the last two years dreaming about, and their ladies can go freely to Australia. So everyone wants visas!
Seriously, I can't recall the last time we've had so many tourist visas, let alone everything else! It's great for business obviously. But maintaining high standards with high volume takes time! 
I really implore you all to be patient with us. Cannot and will not lower standards and rush everything through, nor can we turn half of you away. Many of you have dealt with us for years, and we can hardly send you packing because we're busy! We will soldier on, and do so much better with your patience and your knowledge that the job will be done properly. 
HINT: If you're wondering if your documents were received, you will get an acknowledgement email every time you upload something to the Migration Hub. You won't get that if you uploaded correctly, and if the Hub isn't updated the next day it just means we're being thorough. 
Thanks for the understanding!
Second! Holy Week 2022!
I think most of you who have anything to do with the Philippines knows about Holy Week? This week is Holy Week 2022.
In Australia, Easter means chocolate eggs and getting killed on the road racing off to your favourite fishing spot! Here? It's a celebration of the Resurrection. Everyone hits the road to spend Holy Week with their families. Never seen a chocolate egg here ever! This country is far too devout in their collective Faith.
Dates: Thursday 14th April to Sunday 17th April
Every year our staff take this time off, because these are public holidays to which they're entitled. This year? Me and Mila and Remy will do the same for the first time. We actually work a lot of public holidays, but we don't say because most of the time I find out the day before.
We hope you will all enjoy Holy Week in your own way. We hope you can spend it with your families!
Third! Continuation of last news
Tourist Visa or Partner Visa?
The classic visa quandary (which it really shouldn't be!)
There are two reasons why this question comes up, and I DO understand.
First one? To see if she likes Australia!
Don't get me wrong! I would never ever push someone into taking the plunge when they're not ready. I have a conscience, and I don't want to see things fall apart and know that I played a part in it. I'm famously not-pushy, however I'm also a straight-talker. If I think you're on the wrong track I will quickly tell you so, and I know most people appreciate this.
IF your relationship is young and you still have uncertainties? Absolutely! Tourist visa is the way to go. Three month visit, and you will both know so much more about each other and your dreams of a life together in Australia will be so much clearer. Do it if you're not ready to commit!
I will say though that I can only think of a single occasion of a Filipina lady having some trouble with Hobart winters! She went back for a bit, but then returned and she's still down there! A Filipina lady saying "I love you, my darling……but I hate Sydney, and want to return to Bulacan because it's better!"???? Doesn't happen! If she loves you, she will follow you anywhere! These are the same ladies who can work for [expletives removed] in Saudi Arabia and don't complain! Living somewhere in Australia with a handsome Aussie husband (seeing as we're ALL handsome!)? Not likely!
My test (as many of you have heard) is this:
How would you feel about putting her back on a plane after three months together? Are you both going to be OK with that? If you know you will be ripping your heart out and dying of loneliness especially at night, then I think you have your answer.
Second one? Bring her on a tourist visa, then start on a partner visa application!
This is the one which DOES frustrate me. I don't mind admitting it. Because I know it's naive! It's impractical! And I know this from years of doing this. 
It's definitely NOT a good idea to get a tourist visa and try to commence, prepare and lodge a partner visa during a 3 month tourist visa stay. And before you ask about 6 and 12 month tourist visas, in reality they don't exist. They don't grant them to applicants from the Philippines.
Reasons?
You will need to get a lot of documents from the Philippines for the application, and these are extremely difficult to obtain from inside Australia. (And no, there is not a standard list that we can give you now, as each application is different).
And you will have plenty of other work to do to complete the application, as this is a major visa application. Nothing quick or simple about it.
If you plan on marrying during the three month visit? That alone could take a few months!
So you risk running out of time and having to return to the Philippines without a lodged application, or lodging a very poor one which is missing essential items.
What we suggest is this:
An Onshore Partner Visa. We prepare the partner visa application AND a tourist visa application at the same time. She travels to Australia on a 3 month tourist visa (so she arrives in Australia sooner). We lodge the partner visa application soon after she arrives. She remains in Australia during the processing time on a bridging visa.
We've done this many many times before. It works! You still have some "living together" evidence to collect while you're in Australia together, as well as you need some time to settle in to a new life together. 
And you're thinking of saving money? We only ask for a downpayment at the start. The balance isn't due until we're ready to lodge the partner visa later in Australia. That's more than 80% of the total. Not a bad deal.
From the Harvie Family and from the Down Under Visa Staff, we wish you and yours a Happy Holy Week/Happy Easter. Ingat!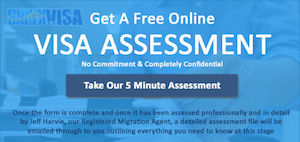 COVID CONCERNS? From 21 Feb 2022 the Australian border will be open. You just need a visa and to be double-vaxed! Click above and get a free assessment!