Biometrics Collection for Australian Visas from Manila (Philippines)
Biometrics Collection has come to Manila
This is nothing new for Immigration. Our clients who lodge in Dubai have had to do this for years, and of course many other countries that we rarely manage Australian visa applications through. It came to Manila last Monday (4th of April 2022). 
And I will tell you what it involves. NOTHING like the scary pic above. I just thought it would be attention-grabbing!
And please save us all some work by reading thoroughly below before you email me. Deal??
Biometrics Collection – Important Facts
(updated 16 April 2022)
This applies to every new visa application lodged in Manila
Any visa applicant 12 years and above needs to do this
That means you get this done every single time you lodge an application in Manila
Does not apply to already-lodged applications
Does not need to be done before we lodge the application. It's AFTER we lodge.
The applicant will need to go to the VFS office in Manila or Cebu City to get this done
Click HERE to make an appointment
This must be done within 14 days of the visa application lodgment
If you CANNOT get an appointment within 14 days, book and email us the booking confirmation (OR the page that says no bookings available). We will let the Embassy know!
We will send you a notice of this when the application is lodged
And no, the Embassy will not confirm receipt of the data
And no, we cannot help with bookings. Contact VFS if you have a problem booking!
What is Biometrics Collection?
They will digitally take your fingerprints

 

They will take a face and iris scan of you
That's it!
How?
When you get the notice, you need to contact VFS and make an appointment
Bring your passport and the request notice with you
Hope that makes it clear.
So…..
Carry on with preparing your application as you were before
Be prepared to get this done within 2 weeks of us lodging your visa application in Manila
Bring your passport and the collection notice
Then go home and wait for your visa grant!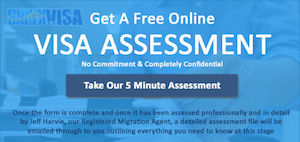 COVID CONCERNS? From 21 Feb 2022 the Australian border will be open. You just need a visa and to be double-vaxed! Click above and get a free assessment!