Offshore Partner Visa or Prospective Marriage Visa from the Philippines to Australia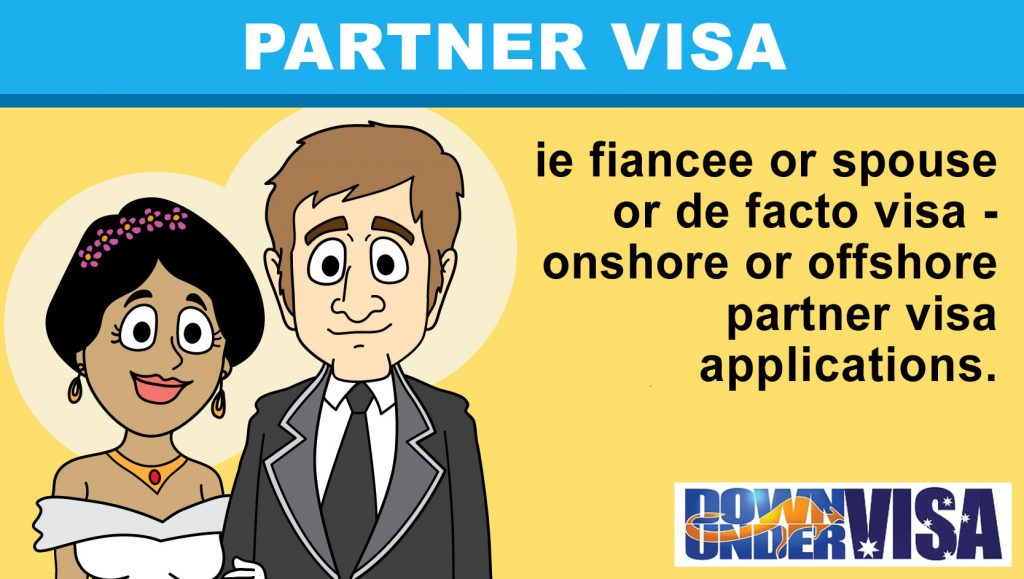 When I (Jeff Harvie) first started Down Under Visa (THE Registered Migration Agency practice in Manila) and helping Australian Filipina couples get together, there was:
Prospective Marriage Visas (PMV's) were the most popular, because the Offshore Partner Visa meant had to be:
Married already, or
In a genuine de facto relationship for 12 months or more

 
Most couples prefer to marry in Australia, and the PMV allowed them 9 months (now 12 months!) to enter Australia and to marry.
Offshore Partner Visas are for those who marry first (usually in the Philippines) or are in established genuine de facto relationships.
Onshore Partner Visas
Why not marry in Australia on a tourist visa?
Well, back then they issued the dreaded Condition 8503 (No Further Stay) on 99%+ of tourist visas issued out of the Australian Embassy in Manila! That meant that the visa holder had to leave Australia. No room for applying for even a further tourist visa, let alone an Onshore Partner Visa. Many an Australian Filipina couple learned THIS one the hard way!!!
But we haven't seen an 8503 since maybe 8 – 9 years out of Manila. And this is why for a long time the Subclass 820 Onshore Partner Visa became THE most popular partner visa option. Everyone wanted to do it. This was especially so in the dark days of Peter Dutton as the Immigration Minister! Back in those dark days, offshore partner visas would take forever! 
Now? Both Prospective Marriage Visas AND Offshore Partner Visas are really quick.
We quote 4 – 6 months processing time, but in truth most are taking 2 – 4 months. We've had some only taking 6 weeks and 8 weeks. Prime Minister Albo said he would speed up the processing and get rid of the backlogs, and he seems to have done it! 
Onshore partner visa options versus offshore partner visa options
So the advantages of the Onshore Partner Visa are a whole lot less than they were before. BOTH great options, but less differences between them now. Don't get me wrong! We don't HAVE favorites! We will offer you the options and explain how it all works, then let you make informed decisions. We've always done that.
Right now? I want you all to know that we have solutions if a tourist visa from the Philippines to Australia seems unlikely for you.
And this is a VERY important point, so please focus and read on!
And I'm sure many if not most of you read my last article on Tourist Visa refusals! If not? CLICK HERE! 
This is my point today! Some of you will get refused tourist visas! We see them rarely from our own applications, but they do happen! And many of you who come to us with one or two tourist visa applications refused (which if you read above means highly unlikely to get one granted at all)?
If you are ready to take the big plunge? Look at an Offshore Partner Visa or a a Prospective Marriage Visa! The waiting time is not so bad these days!
For those of you who want to include children in visa applications!
Partner Visas and School Kids!
Frequent issue for ONSHORE Partner Visa applications!
If you bring kids as secondary applicants to Australia on partner visas or PMV's? When the main visa is GRANTED, yes they can attend school and are treated like any other kid! If the school (like a public school) has no fees? You pay no fees. Subsidized fees like private schools offer? You pay the same as everyone else.
On a TOURIST VISA, or on a BRIDGING VISA (which you will be on until the Onshore Partner Visa is granted) you will pay overseas student rates for your kids in school. The older they get (ie higher grades), the more you pay.
Now, these fees can be pretty scary. These are from 2020!
ACT (high schools): Between $14,765.00 and $16,465.00 per school year.
NSW (high schools): Between $32,420.00 and $34,220.00 per school year.
QLD (high schools): Between $31,557.00 and $33,501.00 per school year.
SA (high schools): Between $29,176.00 and $30,376.00 per school year.
TAS (high schools): Between $27,900.00 and $28,900.00 per school year.
VIC (high schools): Between $29,983.00 and $31,983.00 per school year.
WA (high schools): Between $$17,286.00 and $19,980.00 per school year.
Please note that this is NOT a set of authoritative figures! We have no dealings with schools or education departments! It's to give you a solid idea of what to expect. I believe some states offer discounts if you can show hardship, but couldn't tell you who or how much. Check with your local school(s) in your state to find out exactly!
What you should do if kids are included in a partner visa or PMV? Consider the above! Tourist visas and bridging visas, you pay until the actual partner visa is granted!  You will have at least 3 months on a tourist visa, and MAYBE up to 6 months on a bridging visa. That will soon add up. 
OFFSHORE partner visa options? These figures and fees do not apply! So use this to help you make a decision.
Want to bring your sweetheart from Philippines to Australia?
Please get a free assessment today. We help with Australian Partner Visas from the Philippines to Australia, as well as Tourist Visas, Child Visas, Parent Visas and Citizenship By Descent applications. Click the link below.