Australian Citizenship – Becoming an Aussie for PR Visa Holders

Citizenship for New Australians
Australian Citizenship By Conferral, also known as "becoming naturalised" or just as "becoming an Australian". It is or will be an option for you as an Australian Permanent Resident.
This is the Australian Citizenship you get when you've been a resident of Australia for four years (including one year as a permanent resident), and you're ready and prepared to take the plunge and to become an Australian. An important step, which for most of our visa applicants from Philippines to Australia is the final step and the culmination on all that they've done.
You can become an Australian, equal to any other Australian. As Aussie as your Aussie husband! And an Australian you may remain for all time. And I, like all Australians, welcome you warmly!
---
What does Australian Citizenship mean?
It means you have the right to reside in Australia permanently. No concern about visas being cancelled, or about making sure the visa is always linked to your current passport when you update it. It's almost like finishing your parole. You walk out with your Citizenship Certificate, and any thoughts of being deported or having to leave are now completely gone. You stand as equal to any other Australian, including the Prime Minister.
Australian Passport
It means you can have and you can travel on an Australian passport, and have the protection and assistance of the Australian Embassy when you're overseas.
And of course that means you can travel freely in and out of Australia, with no thought or consideration of how long you visit or how long you were overseas for.
And it also means you can travel to those countries which allow Australians to visit without needing a visa. No more being treated as a third-world national who may overstay. Australian passport means "Australian" to all who view it, and at this point 181 countries in the world will let an Australian Citizen enter visa-free.
Note that you will need to apply separately for an Australian passport once your Citizenship is granted.
Rights of a Citizen
You can vote in Australian elections. You can add your voice to decide who runs the country, state or local council. You can even run for election yourself! Many a former Australian migrant has done just that, and the parliaments throughout Australia have a strong new-Australian presence.
You can join the armed forces in Australia if you're so inclined. I don't expect too many of our Filipina wives to be dreaming about that, but you never know! You may wish to work in the Australian Public Service too, and you may do that.
And you can't be deported! Citizens can't be deported. Visa holders? Yes, if you breach visa conditions you run the risk of being removed from Australia and having your visa cancelled. Citizenship may be cancelled if, say, you obtained your Citizenship fraudulently or if you went off to fight in the Middle East with ISIS. But under normal circumstances, no.
---
---
Dual Citizenship for Filipino Citizens
What happens? Do you cease to be a Filipino Citizen? Do you lose your rights as a Filipino if you become an Australian Citizen?
Yes, actually you do!
But never fear. You may become a Dual Citizen very easily.
How?
You go to a Philippines Embassy or Consulate in Australia, and you swear the Oath of Allegiance! That's it! If you're in the Philippines? Go to the Bureau of Immigration and do the same thing. Oath of Allegiance and you're a Filipino again!
Does that mean you lose Australian Citizenship? No, not at all! You're now a Dual Citizen, and you have all the rights of Citizenship of both countries.
---
Citizenship Test
All applicants for Australian Citizenship By Conferral (those over 18 and those under 60) need to take the Citizenship Test.
What's this about? And is it difficult?
If you follow advice and our guidance*, and if you study the available resources then you shouldn't have any difficulty. It's a 20 question exam (all multiple-choice), and you need to achieve at least 75%.
Topics? Areas you need to understand?
What the pledge of commitment to Australia means
How the democratic Australian government works
Responsibilities and privileges of being an Australian Citizen
No questions about sporting heroes or dropbears. No need to sing national anthems. Mostly commonsense, and the right understanding from the start.
*Yes, we will give you further guidance with the Citizenship Test.
---
What do you need to do?
You need to be an Australian permanent resident. You need to hold a permanent visa, like a Subclass 801 or Subclass 100 Permanent Partner Visa. If you still have your temporary visa, it's way too early! We can catch up with you later when you're ready.
And you need to have resided in Australia for the last four years. And that means resided lawfully in Australia. And you should have had no periods outside Australia of longer than 12 months during that time.
And you should have spent the last 12 months of that four years as a permanent resident! You should have held a permanent visa for 12 months or more. And you should not have been outside Australia for more than 3 months in that last 12 month period.
And you need to prove that you are of good character. That means having a clean police record.
And you will need someone (other than your husband) who can identify you.
And of course you need to be prepared to commit to the laws of Australia and Australian values. Australia is a multicultural society with a history of inclusivity, tolerance and accepting freedom of belief. "A fair go for all" is a the essence of what being an Australian is all about.
You need to pass the Citizenship Test, and you need your Citizenship Application to be granted. When this happens? You can attend a Citizenship Ceremony where you will officially become an Australian Citizen.
---
Navigation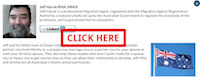 Search Our Site
Happy Couples
Google Reviews
Facebook Reviews
Subscribe to our BLOG
MARA Registration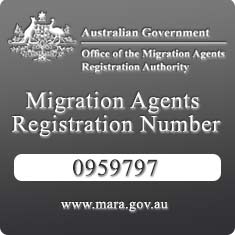 Should you use a Registered Migration Agent or not? CLICK HERE