I put up a post recently about why it's a waste of time trying to get 12 month tourist visas. That was the second one I'd put up in the last 6 months. The last one went up only two weeks ago.
Yet lately I get a flood of enquiries asking about 12 month tourist visas! I would say almost every day I get someone asking about one, especially those who are in long-term relationships. And we're fairly sure we know why!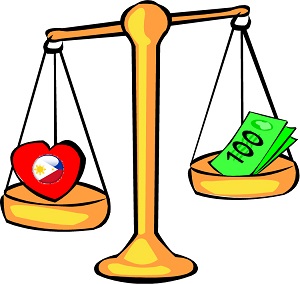 Or I get them asking about work visas….or student visas.
Or I'm getting those who have already had two tourist visas, and they are asking about a third one.
We know the Government fees (Visa Application Charge, or VAC) for partner visas and prospective marriage visas have gone up on 1 January 2015. We know very well, as we've had to break the news to many an unfortunate couple who suddenly have a larger bill on their hands. And again, we haven't seen any downturn in business.
But we really hope that clients won't have knee-jerk reactions to the VAC increase and to try to find alternatives that are really poor economy and will only waste their time AND their money.
Fees went up from $3,085.00 to $4,630.00. That's an increase of $1,545.00. Big jump, yes most definitely. However, applying for another tourist visa plus another airfare is going to cost MORE than that! Or putting it off and you flying over here because you miss her, it will cost you more than $1,545.00 too.
I'm not a big fan of spending large amounts of money either. And knowing that you're not paying for $4,630.00 worth of hard work, it really gets on the nerves. Most of us don't mind paying for something where we can see that the person charging for that work put in the long hours (as you can see with Down Under Visa's fees….we WORK for it!), but knowing you're just paying for Government incompetence, it makes you mad. No arguments from us. The fees are unfair.
However….
We don't want to see any of you shooting yourselves in the foot trying to save money. At the end of the day, if you want to be together you'll end up needing a partner visa….full stop. Stuff around trying to dodge a partner visa, and you will waste time and money then end up back where you started. You will need a partner visa if you, a couple, want to be permanently together!
Realise that:
12 month visa applications are a waste of time! We've explained all this.
Work visas and student visas for applicants who are not genuine and qualified students and professionals, also a waste of time.
Getting another tourist visa will be good fun for you both IF you can get it. Remember earlier posts where we've explained about how they don't want you spending more time in Australia than outside of Australia? It still applies. And even if you did get one, you spend more than $1,545.00, spend 3 months together, then she gets on a plane and flies back. You're no closer to your ultimate goal of being together forever. You're still watching the calendar until she leaves again.
What do we suggest?
Bite the bullet! It is what it is, and whether you like it or not it's there. You found enough money for the application before? Find the rest of it!
Work some longer hours
Give up smoking
Make homebrew instead of drinking in the pub
Hit up a generous relative for a loan
Sell something
Or just remember that partner visa applications normally take a few months. You'll probably have it by then anyway.
Hope to hear from you soon, and hope that those who truly need partner visas will find a way! We know that you can, because that's what we do when something truly matters!