There's no better way of describing the effects of false documents on an Australian visa application, be it for a partner visa or prospective marriage visa, tourist visa or child visa. Quickest way to destroy an otherwise good application, and Down Under Visa have long reminded Australian Filipina couples about this.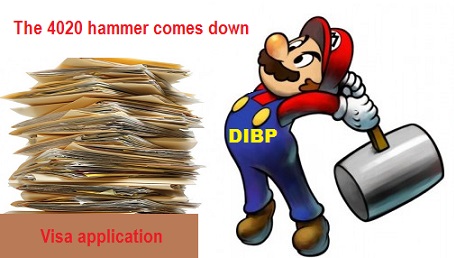 I've written plenty of things about PIC 4020 (aka Regulation 4020) written in the Migration Regulations. This is the law…..yes, LAW….that deals with the effects of false statements and bogus documents that leads to a refusal of the visa application and a 3 year ban from making any further applications.
Definition from Section 5 of the Migration Act (1958)

"bogus document " , in relation to a person, means a document that the Minister reasonably suspects is a document that:

(a)  purports to have been, but was not, issued in respect of the person; or

(b)  is counterfeit or has been altered by a person who does not have authority to do so; or

(c)  was obtained because of a false or misleading statement, whether or not made knowingly.
Could it get worse? Yes!
It was written into the Department policy manual (Procedures Advice Manual or "PAM3") that false statements had to be "material particular", which is legal-speak meaning pertaining to the Regulations, ie. if the applicant said "Ronald McDonald is my best friend" or accidentally gets the marital status of her sister wrong, then so what? It has nothing to do with the visa application, therefore has no effect.
However bogus documents do NOT have to be material particular, which means even if it doesn't appear to directly address something in the Regulations, then it will still trigger PIC 4020 and lead to the refusal and the ban.
And guess what else? A decision in the Full Federal Court (Arora v Minister for Immigration and Border Protection [2016] FCAFC 35) has added considerable legal weight to this issue by rejecting an appeal. The bogus document does NOT need to be relevant to any of the visa criteria for 4020 to apply!
Therefore the statements that parents were married but were in fact not, or claiming someone was born in a particular place when they were not, or falsifying dates of marriages in order to rush a marriage certificate through etc. whilst these may have been seen as harmless at the time, these will bring the full force of this Regulation down on the application and will ruin it.
Just imagine how you would feel if you carelessly submitted a questionable document and it added three full years to the time that you would otherwise be apart? Visa refused. Money and time wasted. Long, dismal wait ahead!
So please remember that next time you wonder why Down Under Visa are so pedantic and picky about paperwork being just-right! We're trying to save your hides, and nothing more.