At Down Under Visa sometimes we have a prospective visa applicant telling me that his Filipina girlfriend could certainly apply for a tourist visa to Australia, because it was just for a one-month holiday. Maybe I come across as a bit blunt, but I normally say that I would give her a 95%+ chance of refusal!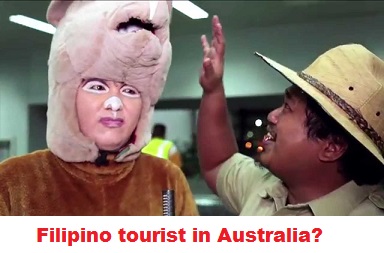 In cases where couples have known each other for only a month or two and haven't met in person, they would have no chance of getting a visa grant at this stage, but like many they often assume it would be an easy process. And whilst I may be sorry that it's hard for a couple to get together, I understand the need for Australian border security (or "border protection" as per the name of the Department these days).
I had another client the other day wanting to get tourist visas for a nice Filipino couple that they've known for years, and I had to tell them that I didn't want them to waste their money and end up with a visa refusal.
Why is it hard to get a tourist visa?
In order to get a tourist visa to Australia, the delegates at the Australian Embassy need to be satisfied that the applicant has a "genuine reason to visit Australia". They also need to be convinced that they will comply with all visa conditions, eg not working, as tourist visas have no work-rights, and that they will return home when the visa expires.
Genuine reason to visit Australia
Hard one to quantify, definitely! It means a purpose that matches with the purposes that the visa was designed for, and lacks any ulterior motives!
What's the most obvious concern? Working, obviously. You can work picking zucchinis in QLD at $22.00 an hour! Picking tomatoes, if you're a quick worker and they pay by the bucket? Might earn $50 – $60 an hour! In Pesos, would be over P100,000.00 per month! Compare that to someone who works in a bank earning P9,000.00 a month! Teachers in Philippines earn less than P20,000.00 a month generally.
And why wouldn't they believe that the bank clerk would want to take a holiday in Australia for a few months? A hotel room in Sydney (as long as you didn't eat or drink anything) might cost a month's salary to him or her. Why would somebody spend what could be their life savings taking holidays? Would you?
The bottom line is that for an average Filipino to look at spending that sort of money on sight-seeing and patting koalas is simply not realistic plus highly unlikely, and the Embassy know this too. So of course they are worried they plan on doing some pre-arranged work for somebody. Maybe babysitting for a relative, or helping with some renovations, or some farm work. Cash-money sent back to the family, and it could result in quite a nest-egg to go back to. Or worse, they could disappear and live under the radar for many years before getting caught and deported.
What if you vouch for the visa applicant?
Whilst you may well know them very well, and you may trust them absolutely, the Department don't know you at all and they certainly don't know them. And unless they make home-imprisonment legal, you have no way of holding onto somebody to ensure they do the right thing. You may promise and you may submit statutory declarations 'til you're blue in the face and it will mean nothing, because you lack the power to enforce what you say.
And as for the lady you've been chatting to for the last 3 ½ weeks, you have even less power to ensure she does the right thing. How many men out there have been lied-to and tricked by a pretty girl? *I'm putting MY hand up!* What's to stop her from arriving at the airport, going straight out the front door and heading off into the city never to be seen or heard-from again? It does happen and it will always happen. They can't prevent this, but they can certainly lessen the likelihood by keeping up the standards and raising the bar that you need to jump over. Might seem tough in the short term, but it may also save you from making a few dreadful mistakes too!
We specialize in not only partner visas, but also tourist visas for Australian Filipina couples who are not quite ready for taking that plunge and getting a partner visa…..yet. These are not holiday-makers. These are couples in love who want to spend some time together, and we are delighted to help them. We base our applications around the stability of their relationships together and the genuineness of their intent to enhance their existing relationships. Almost like a practice-run for the partner visa that is around the corner. If the relationship is sound, we can usually demonstrate this very well to the delegates of the Department.
If we are not convinced ourselves? We would rather not waste your time, and we will tell you this. Let your relationship mature a bit, and more than likely we will be willing and able to help you in a couple of months time.