Meet Steve and Angelica, everybody!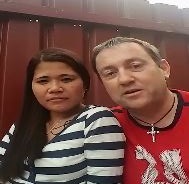 After the usual long wait, hard work and extreme patience, they got through it and they are now together in Australia with a Subclass 300 Prospective Marriage Visa grant, and ready to start their Australian family life like all Australian Filipina couples in serious committed relationships want.
They've been kind enough to share their positive experiences with Down Under Visa as their Registered Migration Agent, who managed their Visa application which took just over 9 months processing time before they received their visa grant.
We wish them many happy years of married life together, and thank them for sharing this with those prospective clients considering using our services and also to give some hope to those who are still waiting as they were just a few months ago.