I actually held off posting my usual Tuesday BLOG post, because there were so many Thank You posts from happy clients. We're getting a flood of visa grants at the moment, most of which have been pretty speedy.
Much as I wish we could take all the credit for speedy applications and to say "Down Under Visa can get you a fast visa grant!", we really can't. It doesn't work like that. We can and do prepare excellent visa applications, as our remarkably high success rate will testify. However we make no claims about speed, because: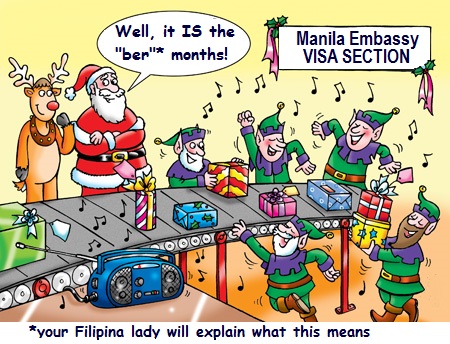 We have no control over how fast applications will be processed, and
We will always put quality ahead of speed, anyway. Aussie blokes will know the story of the old bull and the young bull, right? Down Under Visa are the old bull (with No Bull, mind you). We would rather take the required amount of time, and then have all the visa grants!
Current visa processing time in Manila
We're getting tourist visas being processed in a day or two lately. In some cases we lodge in the afternoon, and they are processed and granted the next morning.
Again, I WISH I could take credit and say they are doing that because they adore us, and they just can't wait to get their hands on such excellent work. But no….sadly no. Yes, of course they wouldn't be granting the visa applications if they weren't correctly prepared and didn't have all the right information. If we stuff up, they will still refuse even from Down Under Visa. But no faster.
But yes, right now we're getting speedy tourist visa applications coming through, which makes for a lot of happy clients. The less time people wait, the happier they are. And we're certainly getting some surprised reactions, considering we quote 2 – 4 weeks as an average time.
So, for those of you getting speedy tourist visa grants, congratulations and please enjoy.
I will however tell you that this is unlikely to last very long. We've seen this happen over the years. The one-day-processing, followed by the 6 – 8 week processing. It all depends on how many visa applications are being lodged in Manila, compared to how many people are there processing them.
Partner visa processing times?
Yes, getting some speedy partner visa applications being processed too, happy to say. Bear in mind though that there is a lot more they need to check and verify, and regardless of whether they have sufficient staff to do it, the checks and balances will still be done. And if the application is light on relationship evidence, it won't get rushed through. The quality that we always strive for must be there, otherwise you risk failure.
Watch this space
Not ready to make the full announcement yet, as still a few things to be put in place.
But we will soon be launching the Down Under Visa – Visa Q & A page, which will be a Facebook group. This will allow both clients and prospective clients to ask questions of that knowledgeable and overworked Registered Migration Agent, Jeff Harvie. And those questions will be answered by video. What I expect is that this will be informative and educational to all who ask and to all who listen, as no doubt any question that you ask will be something that someone else was also wondering about.
So, yes. Watch this space.