So you applied for a tourist visa from Philippines to Australia and it was refused? You assumed fairly naturally that it was a fairly routine application form (much like renewing the drivers license) and were shocked when it came back as a refusal. Just a simple Aussie tourist visa for your Filipina lady. So why a tourist visa refusal? What went wrong?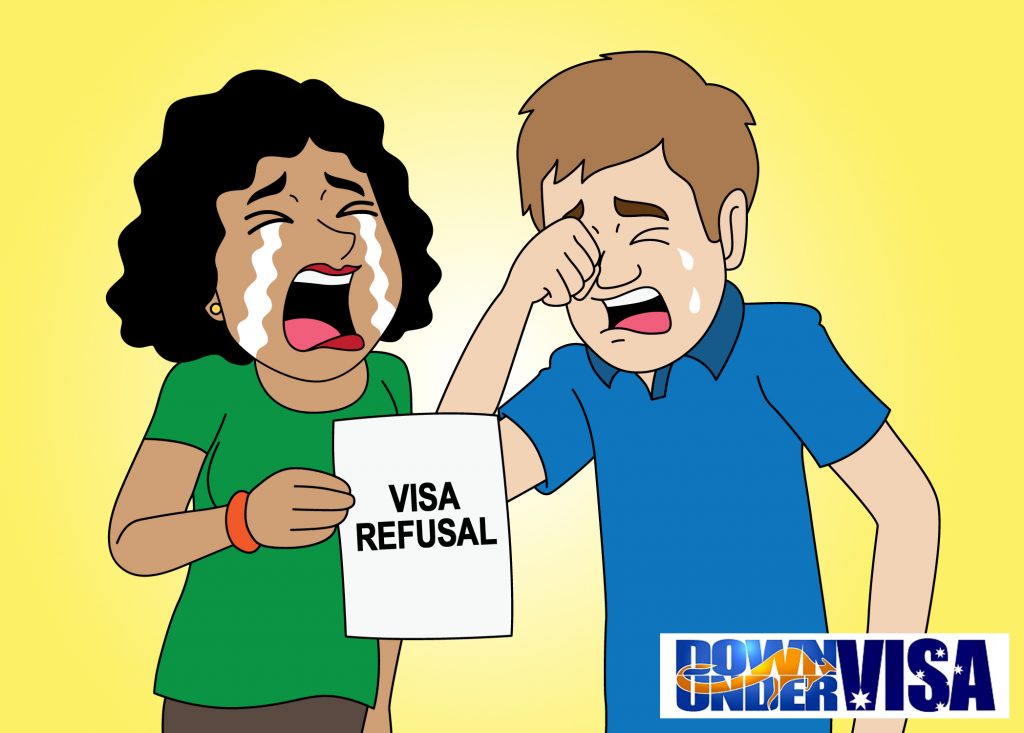 Australian tourist visa refused
A tourist visa refusal is an awful thing to happen! I actually went through it myself many years ago when I was still an Agricultural Consultant and knew nothing about Migration Law. I just assumed it was routine. "Just a simple tourist visa application", like everyone else thinks. I'd heard about these crazy people standing in queues and waiting for partner visas, and thought "Stuff that!" Tourist visa, then marry, then apply and she can stay. How hard could it possibly be?
The only one who did any good out of it was the Cebu City travel agent. And the feeling was utterly devastating. Now? Well, I'm grateful now because she was the Filipina from hell, but I didn't know that at the time. Apart from the shattered dreams it was also the utter shock at getting something refused! I'm an Aussie! And that's the Government from MY country turning me down! This sort of thing doesn't happen very often, apart from applying for a loan at the bank. Australian government forms always seem like a bit of a formality.
So yes, whilst I obviously don't sound as shocked as you are when you tell me you had a visa refusal, I do still understand what it feels like. And we know this is an important step for you.
Tourist visa then marry then get a partner visa
A quick word on this. Doesn't seem to matter how many times I write articles that I get people thinking they can be clever about this and take the quick option. See second paragraph above. Yes, I thought the same thing myself. Easy path. In Australia we can generally bluff our way through most things, but guess what? This is Immigration, and it's rather different! The people who migrate are not voters, so there is no political clout to maintaining high standards of customer service.
Australian Partner Visa applications are at least five times as much work as Tourist Visa applications.
They require documents from Philippines, and no you won't know all that you will need until you've actually started on the application. These documents can be very hard to get later on when she's inside Australia.
The Department expects complete applications, ie Decision-Ready Applications. Nothing left out. The days of them letting you know what they still need and giving you time to organize missing paperwork? Those days are over!
So if you want an Onshore Partner Visa application? Talk to us long before she arrives in Australia so you'll have enough time to get it all prepared.
The Visa Refusal Letter – Why was my Australian Tourist Visa refused?
Want to know the main reason why tourist visas from the Philippines get refused?
Because the Case Officer wasn't convinced that the applicant has a genuine reason to visit Australia, and therefore considers they may be at risk of overstaying. Overstaying usually involves working illegally and is a big problem in Australia. I believe over 60,000 overstayers at any given time. That's a lot! Their primary concern is that the applicant doesn't add to these statistics, and this is the primary reason for tourist visa refusal.
The Visa Refusal Notice?
The visa refusal notice is basically a template letter with a few facts thrown in, and it makes some sense but it's not overly helpful to the visa applicant. It pretty much says what I said above, ie that they are not convinced that the applicant intends to visit for the right reasons and then return at the end of that stay. Nearly every single letter says:
They don't see strong reasons for the applicant to return to Philippines at the end of the visit
Any offers of support are not a strong enough reason to grant a visa
Think the applicant may "potentially seek recourse to unlawful employment", ie the applicant will try to work in Australia
And there's nearly always reference to why the application didn't meet Reg 600.211 of the Migration Regulations, which basically means they are not convinced the applicant has an acceptable reason to visit, and that they will stick to the rules (eg not working, and leaving before the visa runs out).
It doesn't mean the applicant needs to have a job, or AU$5,000.00 of "show money" dropped into a bank account.
Most of our tourist visa applicants are unemployed, and none of them were ever encouraged by us to acquire a speedy bank account. What our successful applicants DO have are genuine relationships and perfectly acceptable and respectable reasons to spend time together in Australia. And our 99%+ successful tourist visa applicants were smart enough to let us demonstrate their strong cases to the Department or the Australian Embassy in Manila. We showed them that they DID meet Reg 600.211, and are the sort of people Australia should allow to come and visit.
If you haven't had our help yet, we suggest that you do. Please get a free online visa assessment now. It will take you about five minutes.
PS. This story just hit the news yesterday of a 10 year old Indian boy refused a tourist visa because he "does not have employment", and is typical of the use of the template letter. It contained the wording "I find that you have not demonstrated sufficiently strong financial, personal, employment or other commitments in your home country that would be an incentive for you to return after your visit," which many of you would have read in your own refusal letters.
As explained above, it's a template refusal letter which attempts to cover all circumstances yet causes confusion especially in this case.
No, they didn't refuse because the boy didn't have a job! They're not stupid! They refused because the boy didn't meet Reg 600.211. They are not convinced he will return. 
The parents just had an onshore visa application (no idea what visa) refused, and they are now on bridging visas I assume because they are appealing the decision. So they're not in the most stable of situations, and are at risk of overstaying if the appeal isn't successful in securing them a visa. Suddenly they want to bring their 10 year old son out for a holiday where they will need to return him at the end? Is there a risk of him overstaying? Yes there is. And if the visa refusal notice was not based on a template and they explained this, there would be no SBS story.