We've had discussion here on the Down Under Visa BLOG page about health insurance for overseas visitors. We've long recommended it for our clients, because we see what happens when things go wrong, and it's something that all temporary visitors from Philippines to Australia should be looking at.
Bottom line is that an overseas visitor to Australia is not covered by Medicare, and medical treatment in Australia is very expensive. If your lady is in Australia and something goes seriously wrong, you will foot the bill. And if that's something really serious, you could not just lose your shirt by maybe lose your house!
We had a client once whose Filipina wife needed two operations on her gall bladder. He estimates he saved at least $15,000.00 because he had coverage. And I still remember a client asking me if he could get retrospective health insurance, as his girlfriend had an appendicitis. I didn't follow it through, but it would have meant an emergency appendectomy which would have needed to be paid for in cash.
Travel insurance will generally cover most emergency medical treatments, although you need to read the fine print to see what they cover and to what dollar limit. And it's OK for short stays, but you don't want travel insurance for 3 months or more as it works out too expensive because it covers lost baggage and missing flights too. You need to be covered if your Filipina lady gets sick or injured. It's part of being caring and responsible toward another human being, isn't it?
Visas that need health insurance coverage:
Subclass 600 Tourist (Visitor) Visa
Subclass 300 Prospective Marriage Visa
Subclass 461 NZ Citizens Family Relationship Visa (NB. Health coverage compulsory)
Bridging Visas (not for 820 applicants)
BUPA overseas visitor health coverage
We've long just told our clients to sort this out themselves, and we still do. We won't be becoming insurance brokers nor will we be including health insurance with visas. It still remains your decision and your responsibility.
However, like many things for most of us in this increasingly complex world, if it becomes another task then there's a good chance we simply won't do it. To this end, we've done our research and we've found that BUPA overseas visitor health insurance seems to be one of the more reasonably priced options available, and has a range of coverage from basic hospital right through to fairly comprehensive plans. It's also well-known and trusted.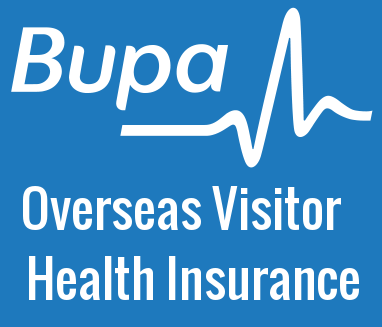 We have a link on our Jeff's Favorite Links page, and a link on the "Health Insurance" button on the To-Do List on the Migration Hub which will take you straight there. You can get a quote on what you plan you want, and if you're happy about it you can sign up right then and there.
What I hope is that this easy-to-click option will lead to most of our clients in Australia not having the risk of expensive medical treatment hanging over their heads!
NOTE: This is an update of a BLOG post from 2016