Down Under Visa News – November 2019
The latest Down Under Visa News announcements for November 2019. Important and exciting happenings from the premier Australian Registered Migration Agents in Manila Philippines. Holiday dates to set on your calendar, and something exciting and entertaining coming up for anyone interested in Australian visas from Philippines to Australia for Australian Filipina couples.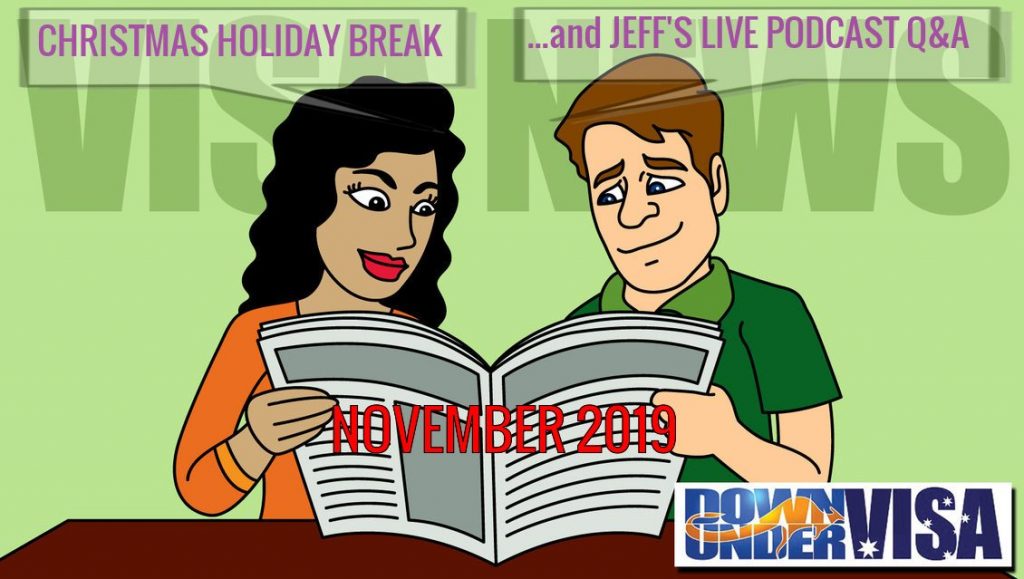 Christmas Holiday Break – Down Under Visa Office – 2019
Yes, coming up to that time of year again. Down Under Visa take one break every year, and Christmas is the time to do it. Everyone (including us) needs some time to put work aside and to catch up on living again, and there is no better time of the year to do this. Days where sleeping-in is OK, and where we can enjoy our families. This is our break time.  
Last office day Thursday 19 December 2019

First office day back Tuesday 7 January 2020
So please take careful note of these dates. Anything urgent needs to be completed by the 19th. Can't prepare last-minute applications. We don't do rush-job visa applications during the year, and we certainly won't be doing them at this time. And of course we hope that this is a wonderful Christmas for all of our clients, and may you spend it being closer to those you love and who love you. And may 2020 be the year when your visas are granted!  
Facebook Live Q&A Podcast – Coming Soon
Yes, taking another bold step into the world of social media. Podcast Q&A which will be broadcast weekly on the Down Under Visa Facebook page. All are welcome to listen to my wonderful voice and to enjoy my handsome face! You can watch or you can listen. It will also be uploaded to YouTube so you can catch up with episodes at your leisure.
The idea? This will be a Visa Q&A session, about visas that we manage. No work or student visas, and no visas from Ukraine or Uganda. This is our stock standard range of visas for Australian Filipina couples, which are the vehicles you use to get together. So discussion will be about:
Tourist Visas (for couples)
Tourist Visas (for visiting family members)
Prospective Marriage Visas (aka Fiancee Visas)
Onshore and Offshore Partner Visas (aka Spouse Visas)
Permanent Partner Visas
Parent Visas
Child Visas (Child Visa and Dependent Child Visa)
Citizenship By Descent
Citizenship By Conferral
You will be able to go to the Down Under Visa Facebook Page and type your questions. Jeff Harvie will see them, and will endeavour to answer as many as possible within the limits of time.
Jeff first came to the Philippines in the 1990's, and has been living in Philippines permanently since 2010. And he's been the premier Australian Registered Migration Agent in Manila for a lot of years, with thousands of successful visa applications from Philippines to Australia going through their offices. It would be easy to say that there are very few surprising situations out there that Jeff hasn't seen and dealt with before when it comes to Australian visas for Australian Filipina couples and the peculiarities of life and bureaucracy in the Philippines. So you can be certain of getting the right answers from a highly experienced source of knowledge. No, we won't be telling you how to prepare and submit a visa application for yourself. No "What are my requirements?" questions! That would be irresponsible. These will be standard questions about visa types and how they work.
A favour
A favour and a BIG favour! No point in me doing this if I do it when interested parties are all off at work or fast asleep or watching the footie! 
What would be a good time and what would be a good day? Manila time (which is the same as Perth time). Can you make some comments in the comments section below? You can expect Episode 1 to be next week at the latest, or maybe even this week if everything comes together. Let me know your thoughts?