Omicron? Scary or not?
Firstly? I'm NOT Doctor Jeff. Not a doctor. Not a microbiologist. I don't even have a First Aid Certificate! So do not take any of this as medical advice about COVID-19 or Omicron variants. This is merely one man's observations, which you may agree with or not. 
I HAVE discussed the Omicron situation with three doctors here in the Philippines in the last week, all of whom I respect. I will add their opinions here, along with my own observations. 
Is Jeff worried about Omicron or COVID in general?
No, Jeff is not worried at all abut Omicron. Jeff feels more positive now than at any time over the last two fairly dreadful years, and Jeff will step out of the third-person and will explain why.
I'll share with you my observations over the last few months since they announced this Omicron thing starting in a few African countries. 
Omicron Observations
Infectiousness and Spread
Yes, Omicron is a lively one. Seems to spread faster than rushes on toilet paper in Australia! 
Philippines Daily Cases
December 19 2021 (pre-Omicron): 22
January 17 2022 (post-Omicron): 36,978
Spreading fast.
Severity
Omicron is really not severe at all! My observations and doctors observations. It's MILD! Two weeks ago our local Governor (Cavite province) said the following:
Hospitals at 42% capacity, ie more than 1/2 empty
96%+ of cases mild or with no symptoms at all
No deaths from Omicron!
First Omicron case we heard:
Friend in her mid 60's who went to America and got it: Slight cough and runny nose. Felt normal after two days.
Second case:
One of our staff in early 20's: Bit of a cough, Two days later felt better.
Third mega-case:
Large household near to us, ie 6 adults, 5 children: Whole household caught Omicron COVID. Some had mild fevers for about 1 day. Others had coughs and runny noses. Youngest a 3 year old. Oldest an 82 year old. From the first case to the last one feeling fine, 1 week! 
Our local doctor
Last year she and her husband (also a doctor) caught Delta-variant COVID. Husband had pneumonia at the same time. He was managing a COVID ward at a local hospital, and was really run-down from long hours. He nearly died. His mother died of COVID at the same time. He's still a bit frail to this day after many months. Walks like a man much older than he is. Last year she was shaking when you spoke to her. Fear! Nerves at a frazzle. You couldn't tell her you had a sore throat without her thinking it was COVID!
Doctors' opinion today?
MILD! No longer worried since Omicron. Their thoughts? "This is the beginning of the end of this".
A specialist I spoke to yesterday said exactly the same thing. COVID-19 is on its last legs.
Microbiologist friend of mine
Viruses always evolve, and change. New strains. As they do, they become (a) more infectious and (b) less harmful. He told me this right at the start of this in 2020, and today he says "See? I told you so!"
Australian Government
Yes, we might not like the Government very much. We're Aussies! We shred these people whenever we can, however we must realize that they ARE sourced with facts more qualified than we are. Health experts are going to tell the Government before they tell Dave on Facebook! So chances are they DO know what's going on here.
WA borders are opening 5 Feb
WA were (I think) the strictest state throughout the COVID outbreak. And now they're opening their borders to interstate and (*qualified!!) international visitors.
Would they do this if we were facing Armageddon? Not likely!
*PLEASE no more emails about whether someone can enter WA without a Travel Ban Exemption. This is Federal.
Travel Ban Exemptions are getting easier
Yes, the wretched things are still here! Still have hurdles to jump over, but we've had a flood of grants lately. Mere coincidence? I think not!
No, they never said that their decisions to refuse nearly-everybody were driven by the severity of the problem, but it was pretty obvious! We had couples refused 14 times in a row! Then suddenly they were granted! Coincidence? I think not!  
And my prediction is that within a few months the borders will be open again! They WILL expect double-vax! Two jabs of approved vaccine. Tested within a few days of getting on the plane. No one should kid themselves that they will get away without this. 
Why is this "the beginning of the end"?
Again, I am NOT Doctor Jeff! This is NOT "reliable medical advice". Do your own research please! But I'm probably a little better-read than the average, and my readings tell me this:
1. Having vaccinations against COVID does not provide a blanket rock-solid protective wall against COVID infection, especially the Omicron variant. But it DOES make it considerably less likely that you will catch it, and those who are vaccinated tend to get milder symptoms. Our doctors confirm this, and the household mentioned above demonstrated this. All the adults were vaccinated. Most did not even have a fever.
2. CATCHING Omicron should provide a basic immunity for several months!
So what do you think will happen when this mild COVID variant sweeps enthusiastically through a town near you?
1. Lots of people will get mildly sick for a few days, then get on with life.
2. The Omicron virus runs out of susceptible people to infect!
3. Game over!
Yes, beginning of the end!
What does Jeff suggest you do?
I'm NOT going to tell you to sign up for visas. There's something remarkably positive and driven about couples in love. They never give up regardless of what happens, and we're still very much in business as a result of this. January is our best month for a very long time for visa sign-ups. If you're in love and you want a visa, you will contact us anyway!
What I suggest is that you stop listening to the tales of woe and end-times on Facebook and other Social Media. The conspiracy crackpots and tinfoil-hat-wearers? The sour-faced people who drain your energy with their negativity? Stay away from these people! 
Look at the positive things happening. Wait-for and enjoy the good news as it unfolds. Enjoy your relationships and count your blessings! 
Stay positive! This will all be over soon!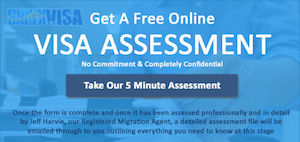 COVID CONCERNS? From 21 Feb 2022 the Australian border will be open. You just need a visa and to be double-vaxed! Click above and get a free assessment!